Insurance Tool
Afirmo has partnered with leading insurance brokers and Tier One insurance underwriters (the large companies that actually insure you) to bring you a suite of insurance products. Afirmo's Insurance Tool is integrated with Afirmo's other tools to bring you some unique benefits.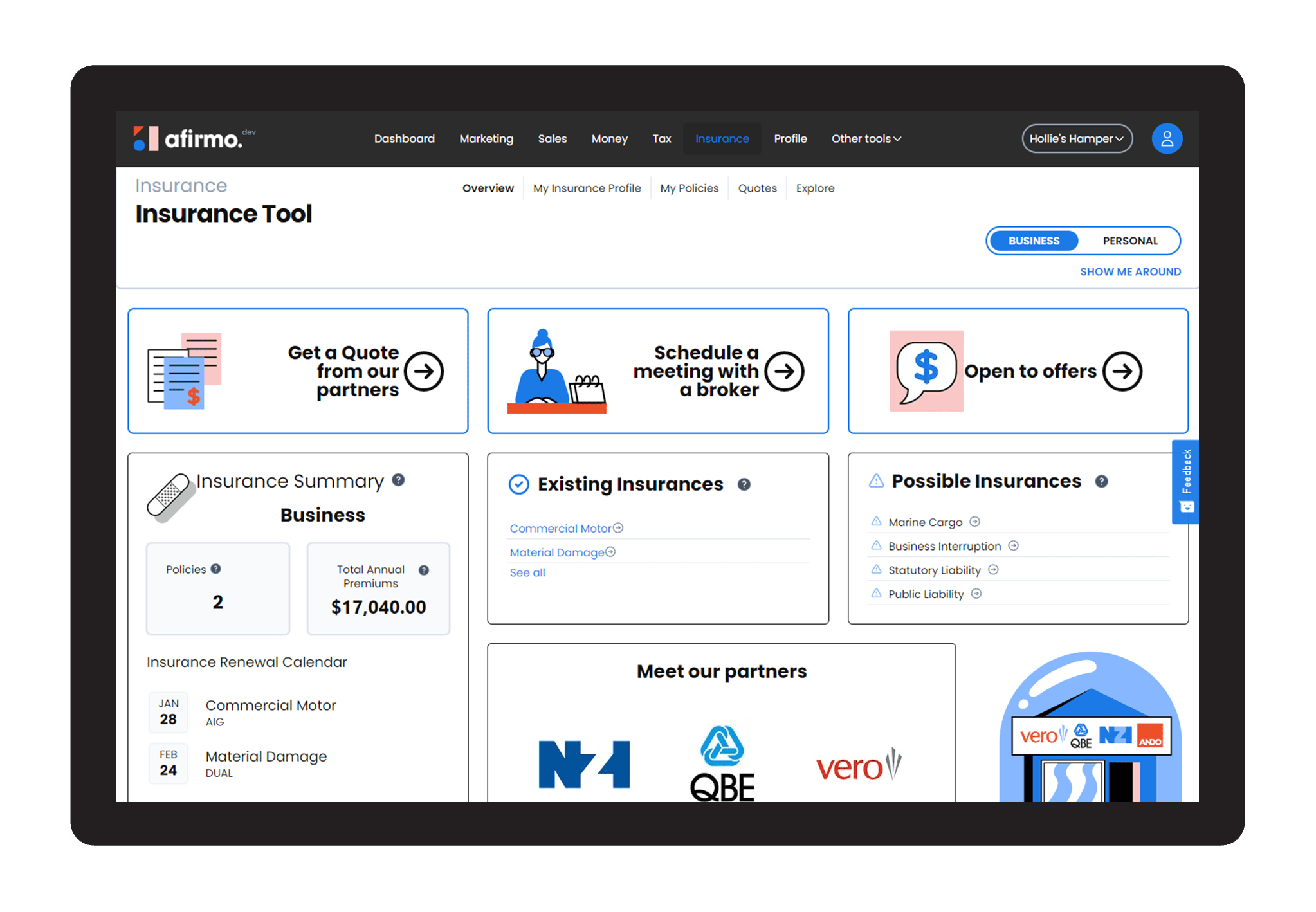 Protect

what you've built
You've poured your hopes, dreams, time, money, and energy into starting your small business, now's the time to protect what you've built. No one wants to think about things going wrong, but we think it's better to be safe than sorry.
Afirmo's got you covered. Whatever industry you're in or stage your business is at, we'll help you find the best insurance options for you.
Afirmo's
Unique

Insurance Tool
Most online insurance tools are offered by insurance underwriters directly to the public to cut out the broker. The broker can represent the customer (you) or the underwriters. Here at Afirmo we only partner with brokers that represent our customers because when it comes to claim time, we need to know we are all batting for the same side, you!
Afirmo has built a truly unique insurance tool because we collect information from other tools in Afirmo to help protect you better:
When you complete your Afirmo Business Profile, Afirmo will help you choose your BIC code (Business Industry Classification). We use this code to identify what insurance cover you should consider

If you use Afirmo's Money Tool and categorise a transaction to an asset, Afirmo will alert you so that you can consider arranging asset insurance for that new purchase

If you have business interruption insurance at a set income level and the money or tax tool can see you have grown past that level, Afirmo alerts you to review your cover
Building an integrated small business app with an insurance tool allows Afirmo to embed these features in a unique way to help you keep on top of things.
Insurance is only useful if its current and set at the right levels, based on what your business is up to.
With Afirmo's Insurance Tool you can:
Who does Afirmo
partner

with to offer Insurance?
Afirmo is a regulated Financial Service Provider (FSP1003091) governed by the Department of Internal Affairs. Afirmo partners with RMA General Limited, also a registered Financial Services Provider (FSP691192) to offer insurance brokerage services.
RMA General Limited is an insurance broker trading as RMA Financial.
RMA General works with all the leading insurance underwriters including:
| | |
| --- | --- |
| | American International NZ Ltd. A rating. Group trading since 1919. |
| | Chub Insurance New Zealand Ltd. AA- rating. Group trading since 1882. |
| | Delta Insurance NZ Ltd. A+ rating. Group trading since 2014. (Underwrites on behalf of Lloyds). |
| | Dual NZ Ltd. A+ rating. Group trading since 1994. (Underwrites on behalf of Lloyds). |
| | Zurich Australian Insurance Ltd. AA- rating. Group trading since 1872. |
| | IAG New Zealand Ltd. AA- rating. Group trading since 1859. |
| | QBE Insurance (Australia) Ltd. A+ rating. Group trading since 1886. |
| | Vero Insurance NZ Ltd. AA- rating. Group trading since 2003. Part of Suncorp New Zealand group. |
| | Star Underwriting Agents Ltd. A+ rating. Group trading since 2002. |
| | Hollard Insurance Company Pty Ltd. A- rating. Group trading since 1980. |
Guide to financial strength ratings:
| | |
| --- | --- |
| AAA | Extremely Strong |
| AA | Very Strong |
| A | Strong |
| BBB | Good |
| BB | Marginal |
Frequently Asked Questions